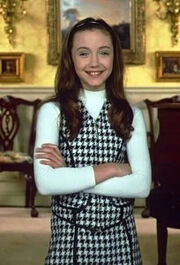 Grace Sheffield
[[1]]


First Appearance

Last Appearance

The Finale Part II

Episode Count

145 Episodes

Age

6-12

Date of Birth

June 30 , 1987

Occupation

Student (Last appearance)

Family

Maxwell Sheffield (father)
Sara Sheffield (mother; deceased)
Fran Sheffield (adoptive/step)
Margaret "Maggie" Sheffield (sister)
Brighton Sheffield (brother)
Jonah Samuel Sheffield (half-brother)
Eve Catherine Sheffield (half-sister)
James Sheffield (paternal grandfather; deceased)
Elizabeth Sheffield (paternal grandmother)
Joan Sheffield (paternal step-grandmother)
Morty Fine (maternal step-grandfather)
Sylvia Fine (maternal step-grandmother)
Nigel Sheffield (paternal uncle)
Jocelyn Sheffield (paternal aunt)
Nadine Cooperman (maternal aunt)
Eloise (paternal great-grandmother)
Eve Catherine (great-great grandmother)
Hermione (great-great aunt)
Shlomo Rosenberg (maternal step-great grandfather)
Yetta Jones (maternal step-great grandmother)
Sammy Jones (second maternal step-great grandfather)


Portrayed by

Madeline Zima

Nicknames

Grace (Maxwell), Gracie (Fran), 'The Little One' (Sylvia/C.C.), Gretel (C.C.)
Grace Victoria "Gracie" Sheffield (born June 30 , 1987) was a fictional character on the long-running American television situation comedy, The Nanny. She was played by actress Madeline Zima.
Information
Edit
Grace was the youngest of the three Sheffield children. Grace was seeing a therapist when Fran Fine came to work for the family which ultimately was advised by C.C. who apparently 'had been going for twenty years'. In the first season Grace had many imaginary friends, such as Imogene. Grace and Fran became very close, to the point where Grace saw Fran as a maternal figure, since she could not remember her own deceased mother, Sara.
Grace was called "Gracie" by Fran. Grace would often accompany Fran shopping, and aided Fran in her schemes. Grace eventually adopted some of Fran's Jewish slang, morals and quotes, and dressing habits.
She became an older sister to her twin half-siblings, Jonah Samuel and Eve Catherine.
Grace accompanied her family to Los Angeles, when her father accepted an offer to produce a T.V. show there.
Ad blocker interference detected!
Wikia is a free-to-use site that makes money from advertising. We have a modified experience for viewers using ad blockers

Wikia is not accessible if you've made further modifications. Remove the custom ad blocker rule(s) and the page will load as expected.