Foreign adaptations
Edit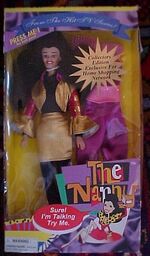 The Nanny was shown in more than eighty countries worldwide. In addition, several local versions of the show have been produced in other countries. These shows follow the original scripts very closely, but with minor alterations in order to adapt to their respective country's culture. The remake in Russia was so popular that some original American writers were commissioned to write new scripts after all original episodes were remade.
In 1995, toy dolls were manufactured to mimic Fran Fine. These dolls showcased the extravagant attires that the actual Fran wore for the TV show, the dolls could also talk.
DVD Releases
Edit
Check the DVDs for more info, It is not known when the remaining 3 seasons will be released.
| Title | Region 1 | Region 2 | Region 4 | Discs |
| --- | --- | --- | --- | --- |
| The Complete First Season | July 12, 2005 | August 9, 2005 | July 13, 2005 | 4 |
| The Complete Second Season | May 2, 2006 | June 8, 2006 | May 10, 2006 | 4 |
| The Complete Third Season | March 17, 2009 | March 5, 2009 | March 11, 2009 | 4 |
| The Fourth Season | TBA | TBA | TBA | |
| The Fifth Season | TBA | TBA | TBA | |
| The Sixth Season | TBA | TBA | TBA | |